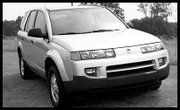 "It's too big," says Ms. D, with clear-eyed disdain. We were driving up to the Saturn dealership on I-55 and High Street, looking at a row of nearly identical Saturn VUE models.
"But it gets great gas mileage," I reply. I know her well — eco-guilt is her weakness. "Well, it doesn't look like it gets great gas mileage," she says, scrunching up her face. "It looks like a big SUV." I inform her that it gets nearly 30 miles to the gallon with a manual transmission.
"But how will people know? They'll think we're driving a big honking SUV."
"We'll tell them," I say, impatiently.
"What, put a big magnetic sign on the door?"
"No, we'll roll down the window and yell it at them."
Ms. D and I need a new car. The 1986 Toyota Tercel all-wheel-drive station wagon we've been kicking around for a while isn't a bad little car, but it's a bit rough around the edges. Given today's airport hassles, we've been driving when we need to travel. We've perfected things quite nicely — take your own towels, and you can stop in any roadside inn; pack a cooler and, voila, you've got Tofurky, soy cheese and good ol' American French's mustard ready to slather onto wheat bread right there at the rest stop. It beats airline food.
But an 18-year-old Toyota Tercel wagon has its long-distance traveling limitations — like last time, when the muffler fell off on the highway in Kentucky's bluegrass country. (Actually, it sort of hung on, throwing sparks all over the gas tank until we pulled off the side of the road. Not knowing what else to do, I twisted it off, put it in the hatchback, and we drove until we could find decent cell reception to call Ms. D's brother and ask for advice.)
One thing I like about the Toyota is the 30-35 miles per gallon it gets on the highway. I want a sport wagon or SUV built for two — and I want good gas mileage. Yes, I'm a bit of an environmentalist, but, truth be known, I just feel ripped off when I go to the pump and spend $25 or more a pop. To my thinking, if I can do my part to cut dependence on foreign oil — and save 300 to 500 bucks a year — I'm game.
The Saturn VUE, new in 2002, is a small SUV ("cute ute"), but offers 64 cubic feet of cargo room with the back seats down, and can handle an eight-foot 2-by-4 if you fold down the passenger seat, too. It's got eight inches of ground clearance and FWD or 4WD options. I'd opt for the 5-speed, 4-cylinder (as tested: $19,275), which makes 143 horsepower at 5,400 RPM and 152 pound-feet or torque at 4,000. I found the engine a little sluggish — the VUE is heavy — but it feels like enough power for highway cruising. EPA estimates are 25 mpg (city) to 28 mpg (highway) with a manual transmission. Previously, I've driven the V6 with its five-speed automatic, which makes 181 horsepower but still gets a respectable 19/25.
The VUE has Saturn's obligatory polymer fenders and door panels, which our friendly salesman, Don, failed to punch and kick, probably because we got there only 45 minutes before closing time. He just handed us the keys to a base model with a sunroof, power everything and a CD player (no MP3 player input, unfortunately) — exactly the setup I wanted to test — and sent us on our way. I love Saturn dealers.
I wanted to love the VUE. It's inexpensive, offers nearly the exact mix of features I want, and only the Toyota RAV4 gets better mileage. And I did like the VUE, although I didn't love the cloth quality and found the clutch uncomfortably high — County Line Road traffic (which is best avoided, anyway) would wear on my left leg. The electronic power steering gives a floating feeling not completely dissimilar to driving a 1969 Ford Galaxy 500. The VUE seemed to handle fine, though, and the controls were mostly in the right places. (Saturn puts their window switches on the center console, where they're a little bit of a stretch compared to most SUVs.)
The VUE features a reclining, split-folding rear seat; a handy second 12-volt power outlet; four cupholders; dual front armrests and a height-adjustable driver's seat. The optional sunroof gave off a hideous "sonic boom" at about 10 miles per hour, but Don told us that's because they take the wind-deflector off to avoid theft on the lot. The VUE's got integrated roof rails, a decent-looking butt (according to Ms. D.), and what I think is a unique, boxy design that's intriguing from different angles. In the parking lot at Hal & Mal's (where we took the VUE to see how it would fit into our actual life), I ask for her opinion.
"It's weird-looking."
Aghast, I tell her about the American UAW union workers in Tennessee making this car — our brothers, through the convoluted relationships of the National Writers Union. I mention the low price and the polymer doors. But she ain't buying today.
Back inside, I look at her from the driver's seat and try one last tactic.
"It makes you look small."
Her face lights up and smiles brightly. But soon enough, her features harden and her brow knits again.
"See — that means it's too big!"
More like this story
Like independent media outlets around the world, the Jackson Free Press works hard to produce important content on a limited budget. We'd love your help! Become a JFP VIP member today and/or donate to our journalism fund. Thanks for considering a JFP VIP membership or one-time support.