Mayor Chokwe Lumumba stands out outside his former law office on Mill Street, a bumpy potholed road and favorite dumpsite, in June 2103. City officials hope a citywide beautification effort will spruce up areas like those along Mill Street.
Stories this photo appears in: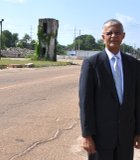 City & County
After Chokwe Lumumba's triumph in the May Democratic primary spurred a spate of race-tinged vitriol directed at Lumumba and Jackson's predominantly African American citizenry, the then-mayor-elect vowed to restore unity.