Public Works Deputy Director Carla Dazet says that 8,000 Jackson water bills are currently "stranded," not going out to the recipients because of the billing-system problem in the city. But that will change soon, she promised. Photo courtesy City of Jackson
Stories this photo appears in: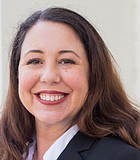 City & County
If approved, the Mississippi Department of Environmental Quality will disburse a $31,683,000 loan from the Water Pollution Control Revolving Fund Loan Program to help the City of Jackson resolve many ...