Averages of COVID-19 infections in Mississippi have risen dramatically in the past two weeks.
Stories this photo appears in: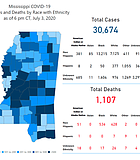 coronavirus
The total number of COVID-19 cases in Mississippi passed 30,000 on Friday, with that day's total at a near-record 990 of reported newly infected Mississippians. Four people died from complications ...