David Russell is part of the construction crew building a film set at the gym of the now-closed Siwell Middle School. Photo by Kayode Crown
Stories this photo appears in: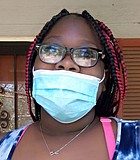 City & County
Quinyetta Kinner was sad when George Elementary School on Hunter Street in Jackson closed in 2018. She attended the school from pre-kindergarten until the 5th grade and has a lot ...