Mississippi Lt. Gov. Tate Reeves, the GOP nominee for governor, accuses Hood of giving wealthy trial lawyers big cases in exchange for donations. He is only agreeing to off-the-record media interviews leading into the election. Photo by Ashton Pittman
Stories this photo appears in: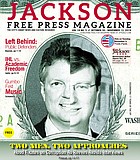 Cover
Mississippi Attorney General Jim Hood, the Democratic nominee for governor, claims wealthy corporate donors control his opponent and much of the Legislature.