After a night in Gov. Phil Bryant's "man cave" at the governor's mansion, far-right U.K. political leader Nigel Farage took the stage at a Trump rally, where he enjoyed the attention of about 10,000 captivated Mississippians. Photo by Imani Khayyam
Stories this photo appears in: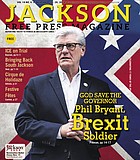 Cover
Republican Phil Bryant is certainly not the first Mississippi governor to support a state's plan to secede from a multi-state union. ... But Bryant seems to be the first to ...