Reports filed Monday show Reeves continues to lead all candidates in fundraising, with $6.3 million in the bank at the end of May. He raised $566,000 last month and spent nearly $1 million.
Stories this photo appears in: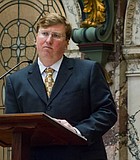 Politics
Republican Lt. Gov. Tate Reeves has five times as much cash to spend in the final five months of the governor's race as his best-financed opponent, and he's already spending ...