Forrest County residents Anastassia Doctor and her husband, Dennis Harris, both say education is their top priority—and they want candidates to deal with the way race factors into the state's educational woes.
Stories this photo appears in: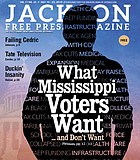 City & County
We asked Mississippi voters which issues they want candidates to talk about. From potholes, to poverty, to higher teacher pay and help with college, here's what they told us.