Howard Sherman (right) and his wife, acclaimed actress and Meridian native Sela Ward (left), arrived at the restaurant to accept the runoff defeat after the Associated Press called the election. The couple acknowledged sting from what they described as dirty politics.
Stories this photo appears in: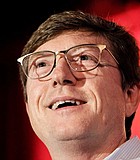 Politics
With his family by his side, Rep. David Baria, leader of the Mississippi House Democratic Caucus, declared victory in his bid for the Democratic nomination for U.S. Senate, at Murky ...