On June 18, 2018, Hinds County District Attorney Robert Shuler Smith spoke to Jackson's officer-ID task force about how officer-involved shooting cases go through the system. He is pictured here during one of his trials.
Stories this photo appears in: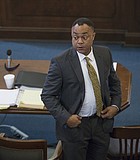 City & County
For the better part of last week's officer-identification task-force meeting at the Jackson Municipal Art Gallery, some of the members didn't know they had a prominent guest.