As destructive as some of the "football first" atmosphere on "Friday Night Lights" can be, the show definitely gets a few things right. For one, if you want to be a part of something greater, allow the men in this issue to inspire you to do your part to make that greatness happen.
Stories this photo appears in: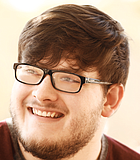 Editor's Note
It may be the peak of the baseball season, but my clear eyes and full heart have been fully set on football, thanks to my latest TV nostalgic kick. For ...