Community members listen as project engineer Brett Mendrop (center, striped shirt) describes the One Lake Flood and Drainage Control project.
Stories this photo appears in: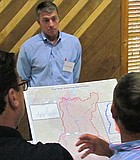 City & County
The potential for outrage, raised voices and loud arguments at the One Lake Public Meeting was never recognized. But, One Lake project members were prepared for the possibility for pushback ...