Jesús Mateos Jr. hits a piñata with the face of President Donald Trump on it at the rally to end family separation on June 30.
Stories this photo appears in: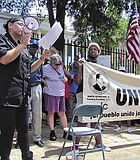 Immigration
"Get out of our country, you don't belong!" When Melinda Medina hears those words, she feels sad for the person targeting her as a Hispanic woman who descends from a ...