Constituent Services Manager Keyshia Sanders said the City of Jackson delivered water this morning to schools under a boil-water notice. She is pictured here at a press conference on Wednesday, Jan. 17.
Stories this photo appears in: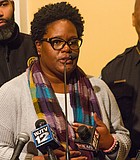 City & County
In what seems like old news, Jackson's water issues persist into this week. Except this time students have returned to schools with little to no water pressure, and the Jackson ...