The Mississippi Association of Gang Investigators, a nonprofit association of law enforcement officers and prosecutors, has this logo on their website. MAGI is pushing lawmakers to pass the expanded gang legislation this session. Photo courtesy msmagi.com
Stories this photo appears in: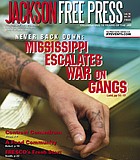 Cover
Mississippi law enforcement may soon be able to decide young people are a gang even if they're not part of a larger criminal enterprise with a hierarchy and criminal connections ...