At the Dec. 18 school board meeting for Jackson Public Schools, board members like Vice President Ed Sivak learned that 44 percent of JPS high-school students are truant, and 34 percent have already missed 10 percent of the school year. He flagged the numbers as a "crisis."
Stories this photo appears in: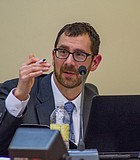 City & County
At the midpoint of this school year, approximately 44 percent of high schoolers in the Jackson Public School District are labeled as truant, meaning they missed five or more days ...