Bob Miller, the City's director of public works, is giving Siemens Inc. six months to get the water-billing system fully functioning because nearly one-third of Jacksonians are receiving water without paying for it. He is pictured here at a press conference on April 16, 2018.
Stories this photo appears in: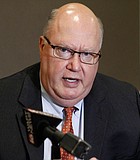 City & County
If Public Works Director Bob Miller gets his way, Jacksonians could start getting accurate water bills in the next couple of weeks.