Lt. Gov. Tate Reeves called the Mississippi House's actions on the Department of Transportation's budget bills an attempt to raise Internet sales tax.
Stories this photo appears in: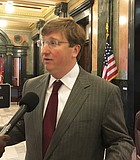 Politics
Lawmakers staged a showdown in the Capitol last night over money for roads and bridges, as the Mississippi Senate and the House of Representatives stayed in session until midnight on ...