From left: Mayor Tony Yarber, JPD District Commander Duane Odom and Commander Tyree Jones were three of nine men on the City Hall dais during a violence-reduction forum on Feb. 23. The discussion didn't go off exactly as announced, however.
Stories this photo appears in: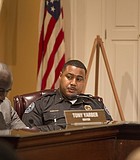 City & County
It felt more like a bait-and-switch. But maybe the City Hall gathering was a start of a new way of thinking about crime prevention in the capital city.