Kristy Watters is one of two co-coordinators of the LGBT Veteran Care programming plan at the Sonny E. Montgomery Medical Center in Jackson.
Stories this photo appears in: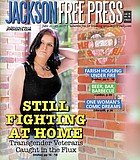 Cover
Some top-down changes coming soon to the VA could help alleviate inadvertent or purposeful discrimination against LGBT veterans. Due to a recent change, all VA medical centers now have the ...