The Obama Administration has issued a directive protecting the civil rights of transgender students. Photo courtesy Flickr/Daniel Borman
Stories this photo appears in:
City & County
There's never a slow news week in Jackson, Miss., and last week was no exception. Here are the local stories JFP reporters brought you in case you missed them.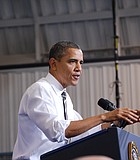 LGBT
Today the Obama administration issued a directive offering "significant guidance" to school districts on curbing sex-based discrimination in schools, specifically against students who do not identify with the gender commonly ...