On Friday, Donald Trump (left) chose Indiana Gov. Mike Pence (right) as his vice-presidential running mate. Mississippi Gov. Phil Bryant and U.S. Sen. Roger Wicker issued statements of support for Trump's VP choice. Photo courtesy Michael Vadon/U.S. Congress
Stories this photo appears in: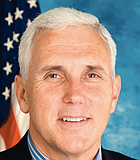 National
U.S. Sen. Roger Wicker and former Mississippi Gov. Haley Barbour are set to speak today at the Republican National Convention in Cleveland, Ohio.