Daniel Zabaldano and Rachel Whaley will get married in Jackson on May 28. Photo courtesy Richard Coupe
Stories this photo appears in: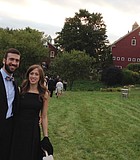 Cover
Tears streamed down Rachel Whaley's face when she saw Daniel Zabaldano. Clearly, an elaborate ruse had been perpetrated on her, and the reason for it was obvious to even the ...