Mayor Frank Melton on the Mobile Command Center with a JFP crew the night of April 9, 2006.
Stories this photo appears in: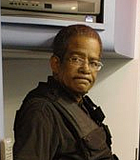 Cover
On Sunday, April 2, photographer Jaro Vacek and I went to Frank Melton's home on 2 Carters Grove to meet with the mayor's Mobile Command Center crew for a night ...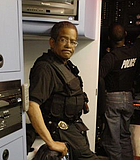 Cover
When he was head of the Mississippi Bureau of Narcotics, Jackson Mayor Frank Melton leaked a memo containing accusations that would later be disproved about agency personnel to The Clarion-Ledger. ...