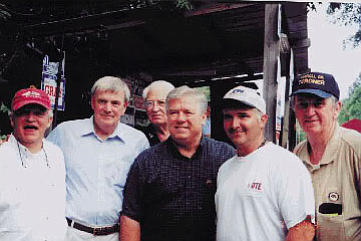 On July 19, 2003, then gubernatorial candidate Haley Barbour campaigned for governor at the Black Hawk Barbecue and Political Rally, which the Council of Conservative Citizens used to raise money to help private academies. Pictured, left to right, are Chip Reynolds, Mississippi state Sen. Bucky Huggins, Ray Martin, John Thompson and the emcee of the rally, CofCC Field Director Bill Lord.
Stories this photo appears in:

National
When I clicked on Dylann Roof's alleged racist "manifesto" yesterday, I wasn't surprised at all to see the name of the Council of Conservative Citizens name-checked. In some ways, I ...