Instead of rejecting students' requests to form a Gay-Straight Alliance, Rankin County School District Superintendent Lynn Weathersby took a more nuanced approach. He introduced a new requirement for students attempting to form or join a club: a parent's signature. Photo courtesy Rankin County Schools/Vimeo
Stories this photo appears in: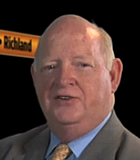 LGBT
Despite fervent backlash from detractors, a demonstration against what LGBT activists call discrimination against a group of students who wanted to create a Gay-Straight Alliance at the school will continue ...