In total, EJI documented 3,959 lynchings of African Americans in twelve Southern states starting at the end of Reconstruction, in 1877, through 1950, which the organization estimates is approximately 700 more lynchings in these Southern states than ever reported. Photo courtesy Library of Congress
Stories this photo appears in:
City & County
There's never a slow news week in Jackson, Miss., and last week was no exception. Here are the local stories JFP reporters brought you in case you missed them.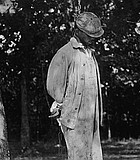 City & County
A chilling new report revealed this week reveals that racial terror lynching in the U.S. was much worse than previously believed.