Willie Jerome Manning was recently exonerated in the murders of two Starkville women in 1992. Now, will the discredited science used to convict him in a separate case, in which he has always maintained his innocence, lead to his freedom? Courtesy photo Mississippi Department of Corrections
Stories this photo appears in: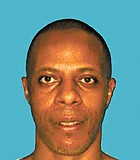 Justice
Willie Jerome Manning has been on death row for more than two decades, facing the possibility of execution for two sets of murders that occurred about one month apart.