Jim Burwell, who owns Burwell Blades, has set up many Saturdays outside of Whole Foods Market to sharpen blades for people.
Stories this photo appears in: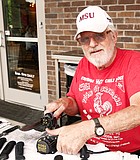 Girl About Town
My relationship with the kitchen is a somewhat complicated one. Growing up, I had a really close relationship with my grandfather, who was a bit of a gourmand. Thanks to ...