From left, Bishop Ronnie Crudup, developer Socrates Garrett and late Mississippi Development Authority official Gene McLemore attended an endorsement announcement for former Gov. Haley Barbour in 2007.
Stories this photo appears in: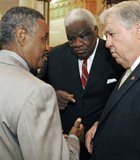 Politics
As it turns out, the most influential figure in the never-ending Mississippi U.S. Senate contest might not be either of the Republican primary candidates, state Sen. Chris McDaniel or U.S. ...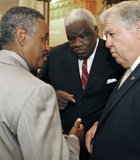 Politics
A super PAC that supports Republican U.S. Sen. Thad Cochran leaned heavily on well-known operatives in state Democratic politics.