As the city's public works director, Kishia Powell will earn $150,000 per year—$3,000 more than the mayor—to help oversee a federal consent decree that requires the city to fix its sewers so they will stop discharging untreated wastewater into local rivers, which could come with a price tag of as much as $400 million.
Stories this photo appears in: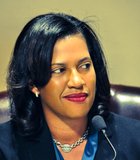 City & County
Jackson taxpayers will pay an out-of-state contractor at least $200,000 to audit several aspects of the city's water-and-sewer finances. After shelving discussion last week to get more details, the Jackson ...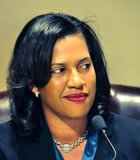 City & County
Earlier this week, Kishia Powell became the city of Jackson's highest-paid employee. She may also have the toughest job in the capital.