Francis P. Smith
Born: Indianapolis, Ind.
Family: Widowed, wife passed in 2003; one daughter, Quanisha, 17
Military Service: U.S. Navy 1983 to 1993
Government: City of Jackson Housing and Rehabilitation Manager 2002 to 2011
Party: Independent
Stories this photo appears in: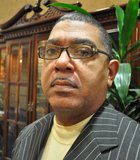 City & County
Francis Smith calls himself a non-politician. The pastor of Total Praise and Worship on Cedar Lane in south Jackson is taking to the campaign trail this spring though, as an ...