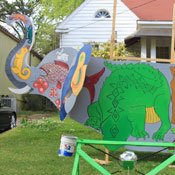 Trace Alston and his daughter, Mary, built a wildlife scene on their golf cart for this year's Zippity Doo Dah parade in Fondren. Show up at 7 p.m. on March 24 to see the little elephant (and friends) roll.
Stories this photo appears in:
Fly
Alexander "Trace" Alston, 50, has been to every Mal's St. Paddy's Parade since the beginning. As part of the Rude Men Krewe, Alston and 75 fellow krewe members from all ...