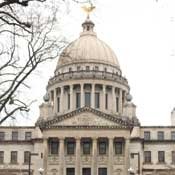 Legislators are up against a deadline to pass bills out of the house where they originated.
Stories this photo appears in:
Capitol
Lawmakers worked late into the night yesterday to pass several controversial bills. The end of this week is the deadline for members of the Legislature to vote bills out of ...
Capitol
Four anti-abortion personhood resolutions introduced into the Legislature have died in committee.
Capitol
This time around, the "sunshine" bill didn't wither. Despite their best efforts to slow down and trip up House Bill 211, which supporters argue adds a layer of transparency to ...