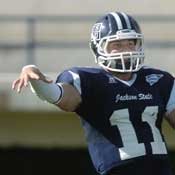 Stories this photo appears in:
Person of the Day
Thursday night in primetime, the NFL Draft kicks off with the first round. Over the next three days, college stars will wait by the phone hoping it rings, making their ...
Person of the Day
Update: Casey Therriault threw for four touchdowns Saturday to lead Jackson State's pounding of Alcorn State 51-7. He also became JSU's single-season leader in passes completed (372 yards), passing yards ...
Sports
All 10 of the athletic departments at Mississippi's four-year colleges and universities each nominated one football player for the 2011 Conerly Trophy. More than 40 statewide media members (myself not ...