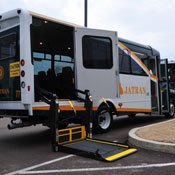 JATRAN will get more buses with wheelchair lifts and ramps, but has proposed shortening some routes or having buses run less frequently.
Stories this photo appears in:
Proposed changes to Jackson's JATRAN bus routes to save money drew anger from some at a public hearing Tuesday evening. Others expressed relief that the reductions in service are much ...
The City of Jackson will hold public hearings to determine which JATRAN routes should be cut to offset an unexpected $1.5 million in mandatory wage increases for JATRAN bus drivers.
Jackson Mayor Harvey Johnson Jr. said Monday the city will have to come up with an unexpected $1 million by January to pay for JATRAN bus drivers.
Politics
Jackson residents had the opportunity to weigh in on the city's proposed fiscal year 2011 budget during a Sept. 7 public hearing. While the city will not increase property taxes ...