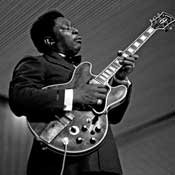 B.B. King will perform at the 48th Annual Medgar Evers/B.B. King Homecoming in Jackson.
Stories this photo appears in:
Art
Medgar Evers' work has never been forgotten. To honor his memory, the Evers family has held a Medgar Evers Homecoming event each June. In 1973 Mayor Charles Evers and B.B. ...