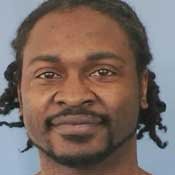 Inmates Benny Joe Stevens, Rodney Gray (pictured) and Robert Simon sued the state over a change to its lethal-injection drugs. Stevens was executed May 10, Gray was executed May 17, and Simon, too, will likely die before seeing the outcome of his case.
Stories this photo appears in:
Crime
Once the drugs started to flow, it took only a minute for Benny Joe Stevens' lips to stop moving. He slipped out of consciousness, and soon his heart stopped.