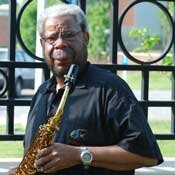 Jazz musician Russell Thomas Jr. teaches at Jackson State University.
Stories this photo appears in:
Music
Many musicians here live an almost "Hannah Montana" lifestyle—going to school daily as a teacher, yet rocking the masses at night. I've been teaching 11 years in the Jackson metro ...
Person of the Day
Russell Thomas Jr. lives jazz—as a teacher, a student and an advocate. The Mississippi Jazz Foundation recognized Thomas for his own musicianship as well as his education work last Friday, ...