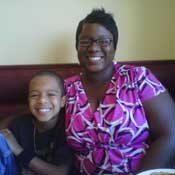 ShaWanda Jacome, shown here with her son Mateo, is assistant to the editor at JFP.
Stories this photo appears in:
Wellness
Mateo was about 4 when I reached a point of complete and utter despair. "Mom, I can't do this. I'm going to lose it. Can you please help me with ...
Editor's Note
These days, everything reminds me of my mom. I was in a department store about two weeks ago and saw an adult daughter and her mom shopping for an Easter ...