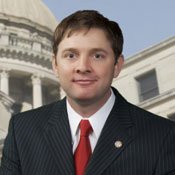 Sen. Joey Fillingane, R-Sumrall, said House members were unwilling to make an immigrant-enforcement bill more legal.
Stories this photo appears in:
Person of the Day
Personhood supporters and detractors are still trying to sort out the ramifications and nuances of an anti-abortion resolution introduced yesterday. Sen. Joey Fillingane, R-Sumrall, introduced Senate Concurrent Resolution 555, seeking ...
Justice
Mississippi law will not require local and state law enforcement to stop Latinos and inquire about their immigration status this year. An Arizona-style bill forcing law enforcement to adopt federal ...
Capitol
Mississippi lawmakers are headed for a standoff on two provisions of a proposed Arizona-style immigration bill. The House of Representatives passed Senate Bill 2179 yesterday but stripped a controversial section ...
Capitol
This afternoon, the Senate Judiciary Committee passed Senate Bill 2179, which is similar to a controversial Arizona law that forces local and state law enforcement to ask for proof of ...
Politics
Mississippians will vote next fall on a constitutional amendment to require photo identification at the polls. In a press conference this afternoon, Secretary of State Delbert Hosemann accepted petitions for ...