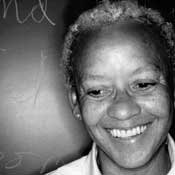 Renowned poet and educator Nikki Giovanni speaks at 7 p.m. March 23 at Jackson State University.
Stories this photo appears in:
Art
Plain spoken and impassioned, poet Nikki Giovanni's body of work is a testament to the power of words to fulfill and inspire.
Person of the Day
It's fitting that Nikki Giovanni's appearance at Jackson State University next week is in honor of the JSU Student Government Association's "Women's Emphasis Week," celebrating women's achievements. For more than ...