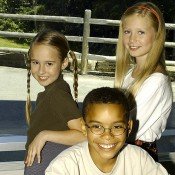 Stories this photo appears in:
Hinds County will serve as one of more than 100 locations across the nation to host the National Children's Study, which organizers say is the largest long-term children's health study ...
Education
The Mississippi Department of Education released 2009 state school test results today showing slight gains in some areas and decreases in others. The 2008-2009 school year was the second year ...
Interim State Superintendent of Education
It's that time again. Summer break for our boys and girls is nearing an end. Communities are preparing activities to get everyone excited about the new school year. Parents are ...