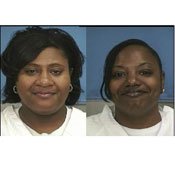 Imprisoned sisters Jamie and Gladys Scott will leave prison tomorrow morning.
Stories this photo appears in:
Also see: Let My Daughters Go
Justice
UPDATED: This story has been updated to reflect information from the NAACP's press conference this morning.
Justice
cover story on the Scott sisters
Justice
Investigations into the pardon petition for sisters Jamie and Gladys Scott have concluded, and the request for their release now awaits Gov. Haley Barbour's decision.
Justice
For their supporters, Jamie and Gladys Scott have become emblematic of a broken criminal-justice system in Mississippi. Jamie, 36, and Gladys, 38, were 19 and 21 respectively when they were ...