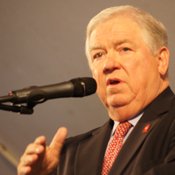 In his final budget proposal before leaving office, Gov. Haley Barbour recommended 2.9 percent in cuts across state agencies.
Stories this photo appears in:
Education
Gov. Haley Barbour called for a 2.9 percent average funding reduction to various state agencies today including education and Mississippi Public Broadcasting. He also called for state universities, including HBCUs, ...
Personhood
Gov. Haley Barbour yesterday reiterated concerns he expressed earlier this week on MSNBC and Fox News about Mississippi's ballot Initiative 26, the proposed Personhood amendment.