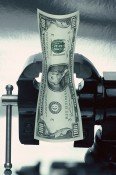 Stories this photo appears in:
A financial debt can be paid back. But the debt we'll owe our children if investments in health, nutrition and education are slashed is irreparable. Investment in human infrastructure--providing the ...
The national conversation on our fiscal health for the past few months has been about whether to extend the Bush-era tax cuts for households with incomes over $250,000, or to ...
Mississippi Legislators are searching for new sources of revenue to ensure services are not cut to the state's citizens; they want to maintain government operations without raising taxes. Lawmakers say ...
Politics
Chewing some gristle on tax day? Here's a bit of news for you. Mississippi's two Republican senators in Washington, D.C., Thad Cochran and Roger Wicker, voted for another tax break ...