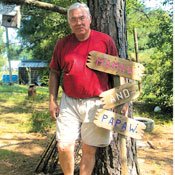 Taylor's best-seller is birdhouses, but he also makes jewelry boxes, wooden gavels and hammers, cedar chests, coffee tables, and marshmallow guns for children. For sports fans, he offers servings trays, footstools and college cut-outs.
Stories this photo appears in:
Fly
Mention "farmer's market," and thoughts of fresh fruits and vegetables mingled with farm-raised eggs and honey spring to mind. These days, however, markets welcome other local vendors who want to ...