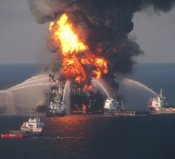 BP and Halliburton officials knew about cement flaws used to seal the bottom of a BP well before it exploded.
Stories this photo appears in:
Oil Spill
When the Deepwater Horizon disaster killed 11 men at sea last April and set off the worst oil spill in U.S. history, the tragedy exposed a number of weaknesses--not least ...
This year will be over in a few hours. Here's a look back on some of the big news events of 2010 in Jackson and Mississippi.
Oil Spill
The cement fixture Halliburton officials used to seal the bottom of a BP well in the Gulf of Mexico did not meet industry standards, The New York Times reported Thursday.
Oil Spill
Federal officials confirmed that BP has permanently sealed the well at the site of the April 20 Deepwater Horizon oil-rig explosion, The Sun Herald reported yesterday.
Oil Spill
BP's $20 billion fund to compensate those hurt by the Gulf oil spill will probably turn down one controversial class of claims: those for mental-health problems.
The U.S. House of Representatives passed legislation yesterday to make oil-spill clean up and deepwater drilling safer, the Associated Press is reporting.
With the leak from the Deepwater Horizon drilling rig temporarily stopped, Gulf Coast residents are breathing a sigh of relief. BP officials announced yesterday that the company had managed to ...
Oil Spill
Mississippi Alabama, Louisiana and Florida officials are asking BP to provide funds for mental health services for residents who have been affected by the oil spill, the Associated Press reported ...
Oil Spill
Yesterday, U.S. District Judge Martin Feldman lifted the Obama administration's six-month moratorium on new deep-water drilling in the Gulf of Mexico. The judge, however, owns stock in numerous oil and ...
Oil Spill
Officials have once again revised their estimates of the amount of oil spewing into the Gulf of Mexico from the site of the devastated Deepwater Horizon rig, the fifth revision ...
Oil Spill
If anyone had any doubts before, new government estimates confirmed yesterday that the oil gushing into the Gulf of Mexico surpasses the 11 million gallons dumped into Alaska's Prince William ...
Oil Spill
A mile-long pipe running from the sea floor where hundreds of thousands of gallons of oil are gushing into the Gulf of Mexico may be the start of capping the ...
Oil Spill
The American Power Act, a bill being introduced in the United States Senate this morning, will allow coastal states to opt out of offshore oil drilling up to 75 miles ...