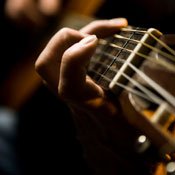 Stories this photo appears in:
If you didn't get tickets to the now sold-out Kid Rock concert at the Mississippi Coliseum tonight, don't worry; you still have plenty of options for entertainment in Jackson. The ...
The weather isn't the only thing that is heating up this weekend. If you are in the mood for a night of Alfred Hitchcock and humor, check out "The 39 ...
The fifth annual Mississippi Blues Marathon features live entertainment and events for runners and non-runners alike this weekend. The marathon kicks off with a pre-race Blues Expo at the Jackson ...
The weather might be getting colder, but don't let that stop your weekend fun. When you get off work today, head to the Handworks Holiday Market at the Mississippi Trade ...
Biz Roundup
Supporters of a proposed downtown sports and entertainment arena will host a fundraiser and information session this evening at the Jackson Convention Complex. In 2009, a steering committee of business ...